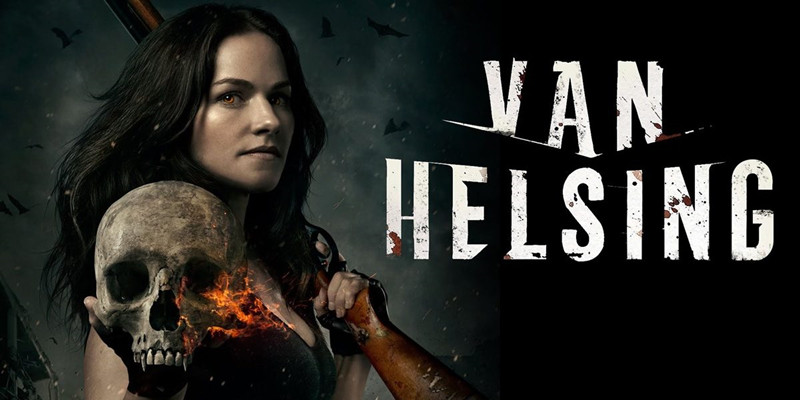 The name Van Helsing has become a household legend ever since Dracula's name gained popularity. This character has undergone various portrayals throughout history, often standing as Dracula's archenemy or, indeed, the central malevolence of the spectacle.
However, the series presents an intriguing interpretation of the Van Helsing character. Their narrative twist envisions Van Helsing as a woman whose mission is to hunt down vampires in a world dominated by their dark rule.
This fantasy horror drama features Kelly Overton in the leading role, and its storyline draws inspiration from the graphic novel "Helsing," crafted by Zenescope Entertainment.
Van Helsing premiered in a commercial-free preview of its pilot episode on July 13, 2016, prior to its official release on SYFY scheduled for September 23, 2016.
The second installment aired between 2017 and 2018, followed by the third season in 2018, and the fourth season last year.
Being an American-Canadian production, Van Helsing was initially slated for premiere on Canada's Super Channel. However, due to the channel's financial issues, the decision was made to debut the series on Netflix on December 23, 2016.
Plot of Van Helsing Season 5
The television series unfolds in a post-apocalyptic world not long after the eruption of the Yellowstone Caldera, shrouding the globe in ash and blocking sunlight, creating an environment conducive for vampires to thrive. As the vampire population surpasses humanity, Van Helsing emerges as the last hope for mankind due to her unique blood composition, which possesses the cure to vampirism. This gift also makes her a prime target for the vampires.
Cast of Van Helsing Season 5
Kelly Overton portrays Vanessa Van Helsing, humanity's final hope for a cure to vampirism and the leader of the offensive against the vampire dominion.
Jonathan Scarfe embodies Axel Miller, a former marine dedicated to both his duty and Vanessa, despite years of isolation.
Christopher Heyerdahl takes on the role of Samuel or Sam, a survivor of the Rising, deaf, and a transformed vampire with a sinister past.
David Cubitt portrays John, another survivor of the Rising, driven by prejudice, anger, suspicion, and fear.
Vincent Gale portrays Flesh, one of the first vampires turned by Julius during the Rising, later becoming a high-ranking lieutenant of Dimitri. He was assigned to hunt Vanessa but found himself cured in the process.
Rukiya Bernard is Sarah Carol, a doctor and scientist from Seattle who used to be a vampire but was cured by Vanessa, leading to her struggles with her newfound humanity.
Trezzo Mahoro plays Mohamad, a carefree and cheerful individual, and a close friend of Sam.
New Cast Members
The fifth season of Van Helsing introduces new cast members, including Ali Liebert, Kim Coates, and Steve Bacic. Coates portrays Count Dalibor, Olivia's husband.
Liebert plays Nina, a vampire with a mysterious past connected to Julius and harboring a deadly agenda.
Bacic takes on the role of the Father, a feral vampire who revels in wearing animal skins and seeks refuge with a child in an abandoned mine.
Van Helsing Season 5 Release Date
Originally scheduled for 2020, the release of the fifth season was postponed due to the challenges brought on by the Coronavirus pandemic. However, it is now slated for the fourth quarter of 2020, as hinted by executive producer Chad Oakes.
Van Helsing Series Latest Updates
In December 2019, the series was renewed for another season, but the creators announced that it would be the final one. Production has concluded on the final series, initially intended to premiere in October 2020, shortly before Halloween. Despite delays caused by quarantine, the production team assures fans that the series will still be released in 2020.
Recap and Season 5 Storyline
The fourth season concluded with an intense cliffhanger, setting the stage for Season 5 to pick up the narrative. Nicholson assisted Jack and Violet, leading to a confrontation with a formidable daywalker. Tragically, the battle claimed the lives of Julius and Axel, with Nicholson meeting his demise as well. Ivory and Violet's efforts against Dracula proved unsuccessful.
Season 5 will continue from the point where Jack was last seen alive, confined in a coffin within the dark realm.
Van Helsing Online Streaming Sites
The eagerly-awaited fifth season can be viewed online on SYFY. Additionally, Van Helsing will be made available on Amazon Prime and Netflix, although precise release dates for these platforms have yet to be announced.