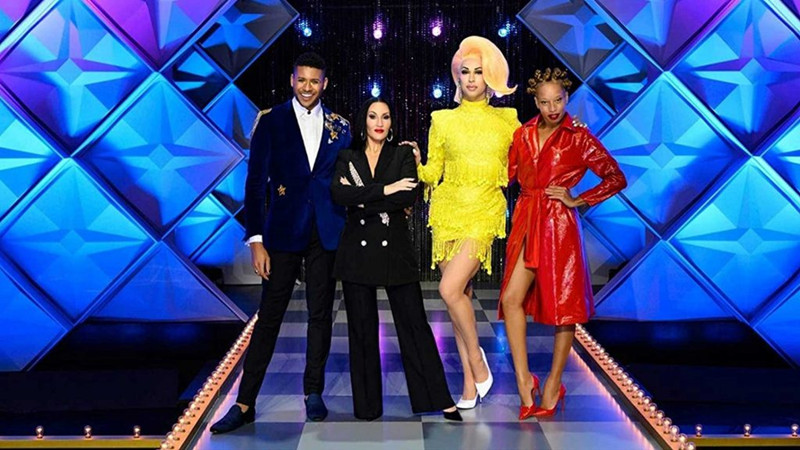 "The Queen of Flow" or "La Reina del Flow" is an awe-inspiring musical telenovela, a production by Sony Pictures Television, which delves into the captivating realm of the reggaeton genre.
The drama weaves a tale of music, particularly the urban genre, as the salvation of Colombian culture, emphasizing art and melody over the clutches of violence. Amidst its portrayal of drug deals and brutality, the narrative remains resolute in highlighting music as a sanctuary, embodied by the unwavering spirit of Yeimy Montoya. Despite the adversities she endures, Yeimy steadfastly pursues her musical dreams.
This extraordinary drama, spanning an 82-episode Season 1, now readies itself to enthrall audiences once more with Season 2, promising a fresh and enthralling narrative, soon to be unveiled.
The Plot:
Before delving into the much-anticipated Season 2 of "The Queen of Flow," a familiarity with the telenovela's prequel is advised.
The story revolves around Yeimy Montoya, a gifted 17-year-old prodigy in the art of composing reggaeton music and rhythm. As a budding songwriter, she pours her heart into love songs for her cherished beau, Charly, meticulously penning them within her cherished notebook.
A complex love triangle unfolds as Juan "Juancho" Camilo develops feelings for Yeimy, and together with Charly, they form the reggaeton group, "Soul and Bass."
However, the tale takes a darker turn when Charly succumbs to jealousy over Yeimy's natural flair for crafting mesmerizing flows. Her prodigious talent becomes the catalyst for the misfortunes she is destined to face.
In Season 1, Dúver 'Manín' Cruz, Charly's uncle and a potent narco-trafficker, perpetrates the tragic act of killing Yeimy's parents inside their bakery due to their failure to pay protection fees. Despite Yeimy's grief, the investigation reaches a swift conclusion, leaving her no recourse but to move on with her life, under the guardianship of her grandmother.
Soul and Bass soon garner public recognition, climbing from local radio fame to securing a pivotal meeting with music producers in the heart of New York City.
However, the true conflict unfolds when Manin instructs Charly and his men to commit a robbery at a health clinic. Yeimy witnesses the assault and discovers that Charly, bearing the conspicuous Soul & Bass tattoo, is the one who shot the security guard.
Confronted by Yeimy about the incident, Charly is consumed by fear that she may reveal his dark deeds. Desperate to prevent further exposure, he devises a plan to frame her as a drug mule. Deceptively seducing her the night before their flight to New York, he cunningly plants incriminating evidence, surreptitiously placing her belongings inside a drug-filled suitcase.
Yeimy's life takes a tragic turn as she gets arrested as a drug mule en route to New York. Falsely accused and sentenced to 25 years in prison, Charly proceeds to exploit her work, claiming her musical creations as his own.
While Charly ascends the ladder of success, Yeimy endures profound suffering behind bars. Nevertheless, she finds strength within her ordeal, bolstered by her son, Mateo, whom she entrusted to the care of her grandmother. Yet, another heart-wrenching tragedy befalls her family when Manin discovers that Mateo is Charly's son, leading to an order to eliminate Yeimy's grandmother and son through a devastating act of arson.
This soul-rending loss kindles an unyielding fire within Yeimy, igniting her pursuit of revenge against those who have caused her immense pain and sorrow. As Season 2 approaches its finale, the audience eagerly anticipates witnessing Yeimy Montoya claim her rightful throne as the queen of reggaeton.
Movie Cast:
In Season 2 of "The Queen of Flow," the main cast remains unchanged. Carolina Ramirez brings life to the ambitious reggaeton songwriter, Yeimy Montoya, who endures false accusations and prison, embracing an undercover identity as Tammy Andrade.
Carlos Torres embodies Charly Cruz, the devious artist who thrives on Yeimy's stolen brilliance and later faces the consequences of his actions.
Andres Sandoval portrays Juancho Mesa, a fervent admirer and loyal devotee to Yeimy, whose devotion knows no bounds.
Season 2 Release Date:
"The Queen of Flow" Season 1 premiered on Netflix in November 2018, captivating audiences with an impressive 82 episodes, rapidly ascending to the top spot as Colombia's most-watched program.
Season 2 has been officially confirmed by Caracol Television, tantalizing fans with the promise of a gripping new chapter. However, as of now, Netflix is yet to unveil the release date for Season 2, leaving viewers in eager anticipation. Stay tuned for updates as we await the highly anticipated return of "The Queen of Flow" in 2020.